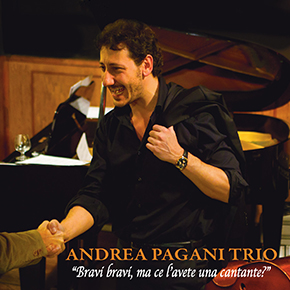 Bravi, bravi, ma ce l'avete una cantante?
Andrea Pagani Trio
Tipology: albums as a soloist
Artist: Andrea Pagani Trio
Release date: 2012
Production: Zone di Musica ZDM1203
Songs: 13
The latest album of Andrea Pagani Trio.
Intro (0.45)
Pills cocktail (A.Pagani) 4.20
Whisky facile (Chiosso-Buscaglione) 5.32
56 mois à Croisset (A.Pagani) 5.48
Caravan (Mills-Tizol-Ellington) 6.03
Hungry society (La società dei magnaccioni) (Tradiz.) 6.45
Tanto pè cantà (Simeoni-Petrolini) 4.25
Parrot blue eyes (A.Pagani) 3.25
Dieci ragazze (Mogol-Battisti) 4.54
L'ernia di Joao (A.Pagani) 5.24
Genova non è la mia città (Paoli) 5.09
3+3+3=Love (A.Pagani) 4.19
Matisse's paint box (A.Pagani) 3.16
FEATURING
Andrea Pagani (Piano), Massimo Moriconi (Double Bass, El. Bass), Alfredo Romeo (Drums).
ARRANGIAMENTO E PRODUZIONE
Andrea Pagani ©2012
UFFICIO STAMPA
Valentina Milano www.valentinamilano.com
ACQUISTA ONLINE ANCHE SU
PUNTI VENDITA CD IN ITALIA
L'Allegretto Dischi – Via Oslavia 44, Roma (Prati)
Blurossogiallo – Via Ugo Ojetti 144,  Roma (Talenti)
Edicola Piazza Montecastrilli – Roma (Appia/Tuscolana)
Hot Music – Corso Matteotti 211, Chiaravalle (Ancona)
Simpaty Records – Largo Chiese 25, Asola (Mantova)